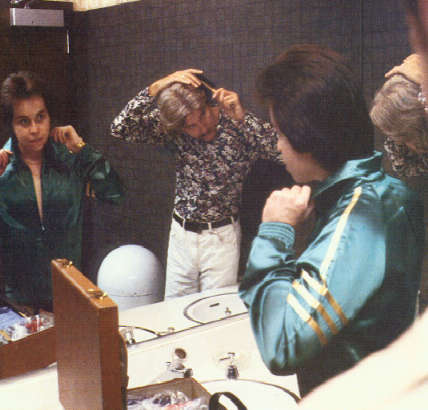 Ten minutes to showtime, which means only ten more minutes to fix our giant collars and brush our giant hair! Luckily, the Lionhead booth is in a men's room.
Sean: So did you go into the stall and check out Black and White?
Me: Well, I go in there and I don't see any monitors, but there's Peter Molyneux and he says to me "Care for a wee bit of rock polishing?" And so I say "Not if that's what I think it is." And he says, "Do you think it's dirty loo sex?" And I say, "Kind of, yeah." And so then the next thing I know I'm getting shoved back out here and some guy from the stinky IGN network is being shown in and I say to him "good luck seeing Black and White" and he says to me "I thought this was where the rock polishing was."
Sean: Uh huh. How does my hair look?